FAQ
PC Florida Fishing has got you covered out on the water. We love fishing, and we know where the fish are! No matter what kind of fishing trip you are interested in, we want to be your choice for a fun day of fishing the waters of Panama City Beach!
Got Questions? We've Got Answers!
Do I need a fishing license?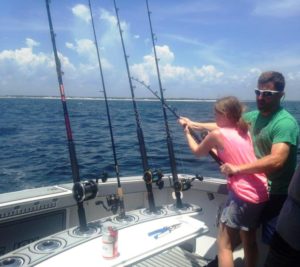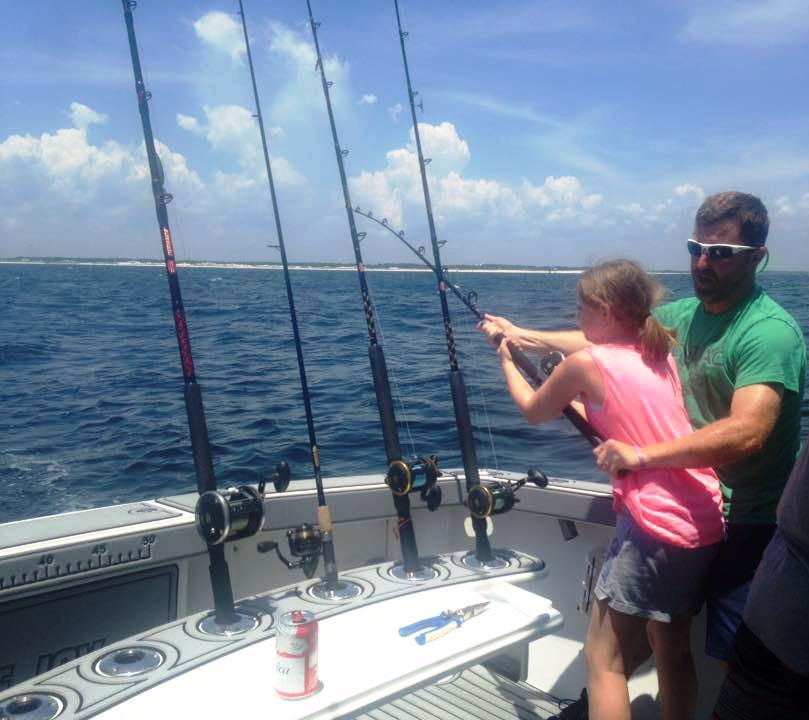 No, you do not need a fishing license. PC Florida Fishing handles all licensing and permits required for all types of fishing you will enjoy on our charters. We do recommend you bring your State ID or driver's license.
Is there a first mate or deck hand on board?
Yes, for all of our fishing trips there will be a captain and first mate who will help you with baiting, casting and even reeling in your fish if needed. We are here to help you have the best fishing experience here in PCB.
What is maximum capacity?
Each of our boats is licensed to carry up to 6 passengers. However, for your own comfort, we suggest no more than 3 people on our inshore fishing trips and 6 people on our offshore fishing trips.
How much do your fishing trips cost?
We have several fishing excursions to choose from; inshore fishing, offshore fishing and shark fishing. Here are our rates for each…
Inshore rates : Up to 3 passengers
4 hour ~ $400
5 hour ~ $500
6 hour ` $600
Offshore rates: Up to 6 passengers
4 hour ~ $600
5 hour ~ $750
6 hour ~ $900
7 hour ~ $1050
8 hour ~ $1200
Shark fishing rates: Up to 6 passengers
4 hour ~ $600
5 hour ~ $750
6 hour ~ $900
Is it customary to tip the boat crew?
Tipping the deck hand/ first mate on fishing charters is customary and always appreciated, and generally runs 10-20%.
Do I have to know how to bait or cast?
No! We're here for you, so we will teach you how and help you perfect your skills, or do it all for you. It's up to you.
What should I wear?
We often leave early in the morning, so when it's a bit cooler out, you may want to dress in layers. Once it warms up, shirts, tank tops, shorts and bathing suits are best. We recommend wearing non-slip/non-marring shoes, such as flip flops or sneakers.
What should I bring?
We recommend you bring along sunscreen, sunglasses, and maybe a hat for out on the boat. Feel free to bring along your favorite drinks or snacks, and we can store them. You may also want to bring an empty cooler for the fish you catch. Everything else you need or want in relation to fishing, safety and comfort is provided by PC Florida Fishing.
What kinds of fish do you catch during inshore excursions?
Inshore, we typically catch Seatrout, Redfish, Spanish Mackerel, and King Mackerel.
What kinds of fish do you catch offshore?
During offshore fishing trips, we usually catch Gag Grouper, Red Grouper ,Red Snapper, Vermillion Snapper, Lane Snapper, King Mackerel, Spanish Mackerel, Triggerfish, Mahi-Mahi, Cobia, Amberjack, and Wahoo.
What kinds of shark do you catch?
Shark fishing trips are typically catch and release. We'll generally catch Black tips, bull sharks, Mako sharks, Lemon sharks, Tiger sharks, etc.
What do we do with the fish we catch?
The fish we are able to keep (depends on size and season) will be brought back to the PC Florida Fishing dock to be cleaned and put on ice for the trip home. We are happy to clean and pack up your fish for you, at $0.60/lb.
What's the best time to go fishing?
When you're in Panama City Beach, it's always time to go fishing! The weather is beautiful year-round, and the gulf is known for producing some of the best fishing. Our crew has the experience in fishing and the PCB area to know where the fish are at any given time of year.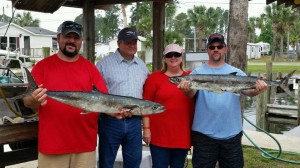 Ready to go fishing?
Give Capt. Sean a call at 229-296-9975 to schedule your inshore, offshore, or shark fishing trip today!